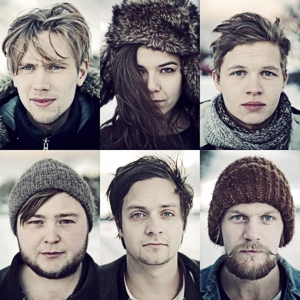 This band is a pretty new discovery for me, but have risen so quickly in my list of favorites that I simply must write about them.
Brief Description
:
Of Monsters and Men is a six-member "indie folk/indie pop" band from Iceland (which really should be enough to convince you of how awesome they are) that was formed in 2010. Their debut album, My Head Is An Animal, was released just last year, but they've already won a lot of awards and titles and such. Here's the full list of their names:
Nanna Bryndís Hilmarsdóttir (co-lead singer)
Ragnar "Raggi" þórhallsson (co-lead singer)
Brynjar Leifsson
Arnar Rósenkranz Hilmarsson
Kristján Páll Kristjánsson
Árni Guðjónsson
I've been trying to read them out loud and enjoying the sound of my failures.
What I like about this artist
:
Um. Everything? I guess we can start with the voices: Nanna's high and airy voice is beautiful, reminds me of
Ellie Goulding
, and blends really well with the richer, more unique texture of Raggi's voice. Sometimes they sing together without doing any harmony, but the contrast in their voices alone makes for a really cool sound, which I love. As for the tracks themselves, the instruments can vary from brass and accordions to simple guitar, and I really like how dreamlike it sounds sometimes. And the lyrics, well, the lyrics are cool too. The topics range from loneliness and insanity (Little Talks) to "a whale that has a house on its back, on which people travel across the ocean, exploring different places and having adventures" (From Finner), but all written in the most beautifully poetic ways.
So yes. These people make awesome music, and they seem to be getting quite a bit of recognition nowadays. Goodness knows they deserve it!
Some of my favorite songs
:
They only have one album out, so...all of them.
For those of you with Spotify (this launches the program):
For those of you who like Youtube playlists:
And for those of you who prefer Grooveshark: